analiti Speed Test WiFi Analyzer packet capture
SPECIAL NOTE: Sign up for a CloudShark Personal SaaS account with code "analiti20" for 20% off any plan for one year!
analiti generates PCAPng files from WiFi scans performed by the Android OS, when in a WiFi screen of the app (there are many other screens with non-WiFi specific functionality; these will not generate PCAPng files).
Every beacon reported by the OS is converted into a PCAPng "packet" record, encapsulated in a generated RADIOTAP header.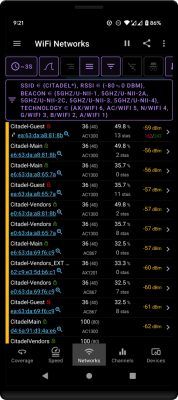 Files can be saved, shared, or manually uploaded to CloudShark.
In addition – auto-upload can be configured to execute when exiting WiFi screens, thus making the upload hands-free after the initial setup.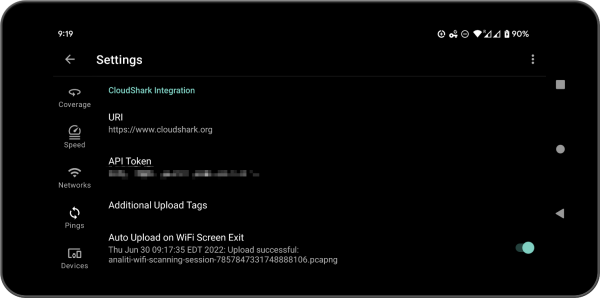 Setup
Go the Settings ➤ WiFi Scanning screen.
Scroll down to the CloudShark integration section
Configure the CloudShark URI (either personal or enterprise) and the API token
Configure additional tags as required
You can also check the Auto Upload settings to perform automatic upload at the end of every WiFi scanning session (i.e., when exiting a WiFi screen).
Otherwise – use the Export to PCAPng ➤ CloudShark toolbar action to initiate upload of the current session to CloudShark.
analiti Speed Test Wi-Fi Analyzer is available for download in the Google Play Store and the Amazon Appstore and does not require additional or specialized hardware for generating PCAPng files from WiFi scans.