Cloud managed Wi-Fi and enterprise switch networks are quickly becoming the norm. For those who deploy Cisco Meraki brand systems for their business or as an MSP, it can be difficult to debug network problems that arise on a network that is remotely distributed, even if it's under your control.
You want to use network packet captures, but that's often hard to do without special software, and capturing on a host won't give you all of the data you need. It's also difficult to analyze encrypted wireless data and grab captures from hard to access sources like mobile devices.
For these cases and more, your Meraki dashboard has built in packet capture that automatically feeds into your own CloudShark Personal SaaS account or Cloudshark Enterprise system. Watch the video to see it in action:
Key benefits for Meraki packet capture with CloudShark
Troubleshoot network problems faster - CloudShark lets you immediately analyze all of your packet captures directly from your Meraki dashboard. There's no need to install additional tools or download sensitive data - everything you need is right in your browser.
Organize your capture data across your deployment - With a single repository for all of your Meraki packet data, you can make sure that valuable troubleshooting and incident data is never lost, and empower your team with a searchable database of packet captures to keep history on your side.
Work together to solve network and security issues - Your whole team can collaborate on problems together, not losing time replicating analysis and giving a clear view of problems that everyone can see. CloudShark's analysis tools are built for all levels of skill without sacrificing the details you need, complete with instant security analysis taking you from a Suricata alert straight to the packets.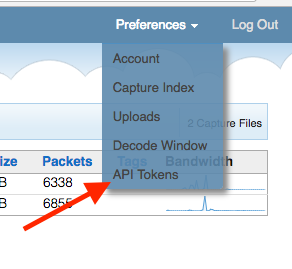 How do I get started?
If you're in a small enterprise or managing Meraki devices on your own, sign up for a CloudShark Personal SaaS. After you log in, you'll find your API key under "Preferences".
You can see our Meraki quick start guide from the support crew here.
Using Meraki with CS Enterprise
Larger IT groups or MSPs deploying Meraki equipment for their users should use CloudShark Enterprise, to push Meraki captures to their own CloudShark service under their control. Our full support article describes the different topologies for deploying CS Enterprise with your Meraki setup.
You can request a demo and we'll talk with you about how it works!